Welcome to In The Club, a newsletter of resources to keep your book group well-met, well-read, and well-fed.
A couple weeks ago, a friend asked me if I wanted to go to the African art museum. I thought it was the Smithsonian's big African American museum, but it was actually located in a smaller building, an offshoot of a larger collection. Apparently my reaction is common, and many people don't really know about its existence. Which is a shame, because it was fab! There was art rendered in various media and an exhibit featuring these gorgeously saturated photos of Nollywood (Nigerian Hollywood) stars.
Everything together really added depth and context to my view of the many countries and cultures of Africa. I think it's easy for westerners to get stuck with a certain image of African art that is not very representative of the expansive continent, nor the time. But this collection featured a lot of modern artists and performers, which allowed me to see what entertainment and art my African peers grew up consuming and currently consume.
This looking at someone else's experience is at the heart of why Women in Translation Month exists and is celebrated in August. Only 3% of books being published in the U.S. are translated, and from that measly number, the translated books by women is even lower. That means we're missing out on an entire world of experiences and perspectives. I don't know about you, but that makes me feel some type of way. Especially since so many are so good! We can start to remedy that a bit today, though!
Now let's get to the club…
Nibbles and Sips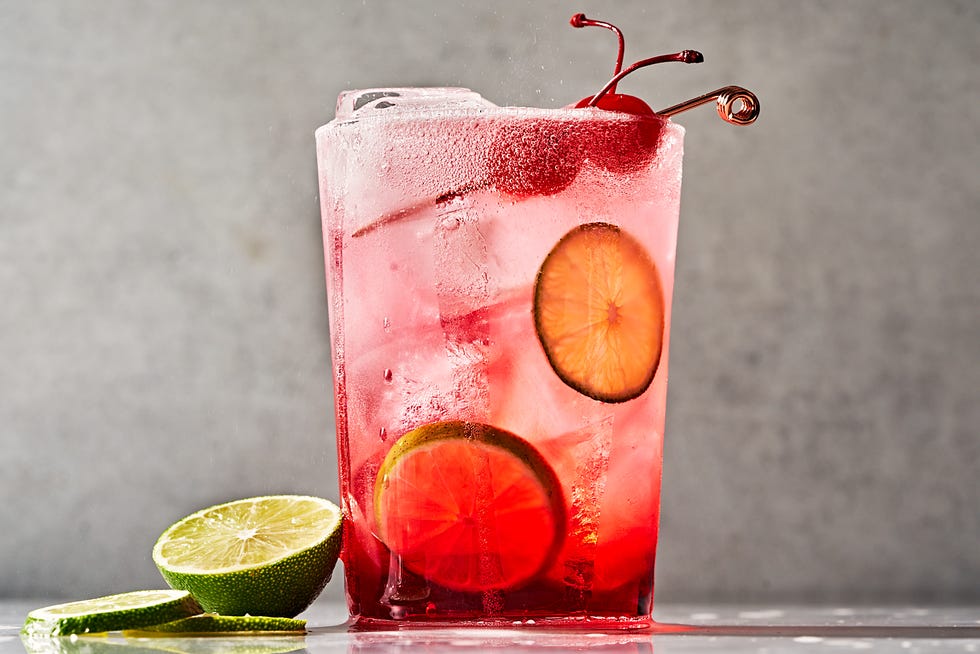 Have you tried a Dirty Shirley yet? I'm all for simple (especially in this heat!), and this is super simple, but I feel the nostalgia gives it a lil sumn extra. You know what I mean? This is another trend from TikTok that I actually appreciate.
What you'll need:
vodka, fresh lime juice, grenadine, lemon-lime soda, and Maraschino cherries and lime wheels for garnish. See? Super simple.
Now you can have a lil sip while you read these translated books by women!
Fire, Translated
The subtitle isn't super original or clever, but it is how I feel! Seriously, these translated books by women are groundbreaking, subversive, and just all around brilliant, and I am miffed just thinking about other works that are similarly brilliant that are waiting to be translated and that will either A) be translated decades from now, or B) will never be translated. I mean, at least we have these, but also who do I ask for a refund??
Talk to My Back by Yamada Murasaki, translated by Ryan Holmberg
Murasaki's graphic novel Talk to My Back was originally published serially in the influential alternative manga magazine Garo from 1981-84. It was just published as a collection this July, and follows Chiharu as she struggles with the state of her marriage and mothering two teenage daughters. As her husband's disregard for her — he sees her as a domestic servant and cheats on her — becomes apparent, so too does Japan's failing of its female population. Murasaki was the first manga artist to use manga as a medium to explore the lives of Japanese women in such an honest way.
Panics by Barbara Molinard, translated by (September 2022)
Molinard (1921–1986) was a prolific writer but only published this one book in her lifetime. The reason being that she would destroy most of her stories almost as soon as she had finished them. Luckily, her close friend Marguerite Duras saved these stories that were later translated by Emma Ramadan. They are like a fever dream of warped experiences of violence, mental illness, and autonomy — in one story, surgeons dismember their patient; in another, a man travels to a city for a meeting, becomes lost, and travels along the city wall for months. Molinard's friend Duras describes them as an intimate look into the author's internal struggle. The same struggle that had her creating and destroying her works in such rapid succession.
Moonbath by Yanick Lahens, translated by Emily Gogolak
In this novel, award-winning Haitian author Yanick Lahens writes a family saga of four generations of women fighting to hold their family together in Haiti. She really immerses you in the world of the Clémestals/LaFleurs/Dorivals and the voodoo, romance, and political upheaval that surrounds them.
The Books of Jacob by Olga Tokarczuk, translated by Jennifer Croft
Tokarczuk really won me over with Drive Your Plow Over the Bones of the Dead. I haven't finished this one yet, though (it's super thiccc at 956 pages *cries in ADHD*). A young Jewish man arrives in Poland and adopts a new name and persona. Taking advantage of the general sense of unrest and change that has swept over the land, he soon also has an enthusiastic following. As the years go by, the man, Frank Jacob, will travel over the continent, converting just as many people into disciples as enemies, continuously reinventing himself along the way. He lives as a Muslim and then a Catholic, a heretic, as well as the Messiah. All while rumors concerning the nature of his following's secret rituals swirl about. One thing I like about Tokarczuk is the way she deftly navigates philosophical and existential questions, and the story of Frank, a real and mysterious historical figure, is the perfect set up for her musings.
Don't forget you can get three free audiobooks at Audiobooks.com with a free trial!
Suggestion Section
The DOJ is suing Penguin Random House (PRH) from acquiring/merging with Simon & Schuster and it's messssy
The worst tropes in mysteries and thrillers
The Many Daughters of Afong Moy is Jenna Bush Hager's August pick for the Today Show book club
Root Magic is Noname's August pick
---
I hope this newsletter found you well, and as always, thanks for hanging out! If you have any comments or just want to connect, send an email to erica@riotnewmedia.com or holla at me on Twitter @erica_eze_. You can also catch me talking more mess in the new In Reading Color newsletter as well as chattin' with my new cohost Tirzah Price on the Hey YA podcast.
Until next week,
Erica