Welcome to In The Club, a newsletter of resources to keep your book group well-met, well-read, and well-fed.
As I mentioned a couple weeks ago, there are so many really interesting books written by women that get translated into English. I've noticed that many of the ones I come across have very unique premises — like the aforementioned Tokyo ghost — and it makes me wonder if it's just some kind of confirmation bias on my part (since I very much like out-there plots). Or, is it more that having a mother tongue other than English and living in a majority non English-speaking country lends itself to a different kind of imagination (which is kind of the point of Women in Translation month). It's probably a mix of the two…
As I ponder this, lets get to the club!
Nibbles and Sips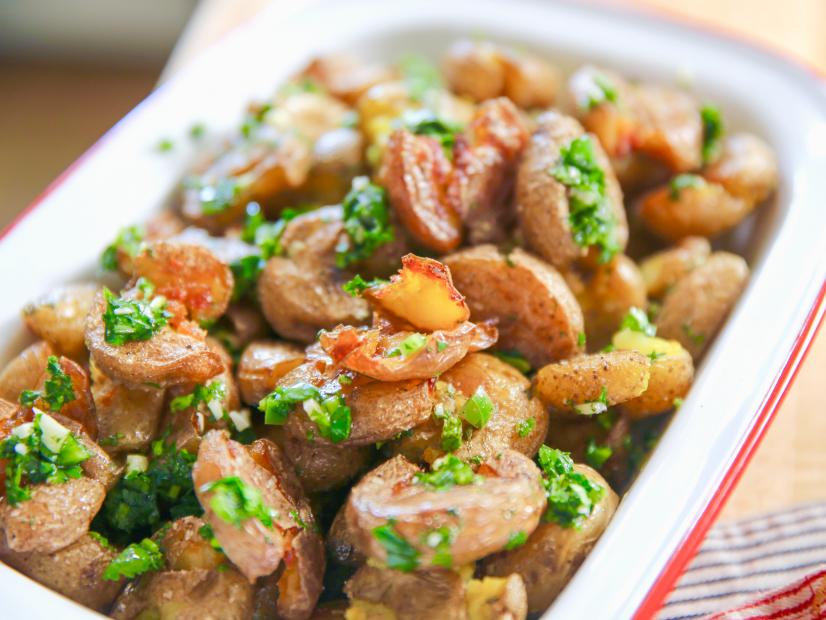 Sometimes you just need crispy, smashed potatoes with chimichurri, you know what I mean? Molly Yeh shows us how to get this glorious (and simple!) comfort food.
You basically just need taters (obv.), olive oil, garlic, parsley, cilantro, and salt!
Now for books!
More Women in Translation
Tokyo Ueno Station by Yu Miri, Translated by Morgan Giles
Born in Fukushima the same year as the emperor, Kazu has always felt tied to the Japanese royal family. He's also tied to this one place: the park near Ueno Station in Tokyo. As a ghost, his spirit haunts this one particular spot where his nebulous thoughts swirl around things like the conversations he overhears and other sensory experiences. They eventually manifest into more concrete thoughts, like the life experiences that led him to being homeless and dying in the park. His story speaks volumes on humanity's disregard for the most vulnerable populations.
Umami by Laia Jufresa, translated by Sophie Hughes
Reading Gods of Jade and Shadow, made me super hype to read more books set in Mexico City, where this one also takes place. In it, we find the very precocious 12-year-old Ana who likes to read Agatha Christie novels to try to forget about how her little sister died. One day she decides to plant a milpa in her backyard. The digging it requires leads to her neighbors digging up their past, sharing with her stories of lost mothers, mysterious wives, and other questions, like how a girl who knew how to swim could drown. Jufresa's writing can be funny but also heartwarming, and the Mexico City she writes of is both modern and whimsical.
Vernon Subutex 1 by Virginie Despentes, translated by Frank Wynne
Virginie Despentes is a writer and filmmaker who wrote this book as part of a trilogy on the owner of a music shop in Paris named Vernon. Wellll, Vernon ain't doing too hot; though he was once a bit of a legend in music circles throughout Paris, the 2000s have him on a decline. The advent of the internet has led to considerably fewer CDs and vinyls being sold, and now his store is struggling. His savings eventually dry up and the rock star who had been paying his rent (must be nice!) has died from an overdose. A comment he made on Facebook goes viral, and once people realize he has been dragging all these rare VHS tapes around as he couch surfs, he becomes a bit of a target. Now, an eclectic cast of characters — from porn stars to screen writers — are after Vernon's tapes that have the last recordings of the dead rock star.
Reading translated poetry is an interesting concept to me. Since the word choice in poems is so exact and precise, I wonder how much gets lost in translation. With that in mind, it makes sense to have another poet translate poetry, as Kazim Ali has done here for Devi's poems, which are simultaneously autobiographical and meditations on things like aging and desire. There's also a translator's note, an essay on reading poetry, and an interview between the author and translator.
Don't forget you can get three free audiobooks at Audiobooks.com with a free trial!
Suggestion Section
Gather 'round, friends, and get this shot of serotonin from cute animal stock photos
Find out more about Salman Rushdie in light and the brutal attack he suffered on August 12th
Some genre-blending graphic novels
Here's the tea on what's going on with Barnes & Noble
---
I hope this newsletter found you well, and as always, thanks for hanging out! If you have any comments or just want to connect, send an email to erica@riotnewmedia.com or holla at me on Twitter @erica_eze_. You can also catch me talking more mess in the new In Reading Color newsletter as well as chattin' with my new cohost Tirzah Price on the Hey YA podcast.
Until next week,
-Erica